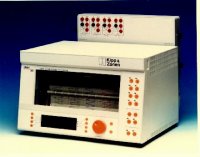 Available in 4, 6, and 8 pen versions
Logging up to 400Hz/channel (Chart recording to 2.5Hz)
Unique user interface allows easy set-up and display of all recorder function
Dust-resistant enclosure
Zone Recording
The BD 300 is an extremely versatile Data Acquisition recorder. Every channel is capable of recording all of the most popularly desired measurements-VDC; VAC; Current; Temperature; and Frequency. The innovative input backpack, which can be detached from the recorder, lets the user have easy access to the input connectors. The newly designed digital steppermotor servo system offers highly accurate and reliable recording. Using 10″ (250 mm) Z-fold paper (an optional roll chart adapter is available), the BD 300 recorder can store up to 3 individual user-defined system settings in a non-volatile memory (including all channel parameters), in addition to the factory default settings.
The BD 300's many other useful features includes servo/discrete modes, pen offset compensation, XY and Logging modes, and extended modes with mathematical calculations. An RS-232 bi-directional interface is standard. Optional accessories include an inkjet printhead, USB port, GPIB interface, and rack/panel mount kits.


For further information and/or pricing, please follow this link to our