Simple-to-use GS strip chart recorders are the standard in the perishables and temperature-sensitive shipping industry, providing excellent service, performance and cost effectiveness.
The GS Strip Chart Temperature Recorder is an inexpensive, highly reliable battery powered time and temperature recorder. It generates a permanent strip chart record of temperature conditions during storage or transportation of temperature sensitive products.
Available in 5, 10, 20, 40 or 60 day duration models, the unit is easily activated by simply removing a start tab. The unit is then sealed up and placed at the desired monitoring location. At the destination or at the end of the recording period, the chart is removed from the recorder and the temperature history is reviewed. Temperature vs. time is clearly graphed on a narrow strip of pressure-sensitive paper.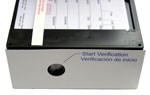 The chart is clear and easy to read, and represents documentary evidence of the temperature conditions in transit. Serial number appears on chart; numbers are unique and match the documentation forms. Elapsed times are shown on margins – days and hours from start. Temperature lines are marked on every fourth major time marker.
Product Specifications:
Temperature Range -25°C to +35°C (-13°F to +95°F)
Temperature Sensor NIST Traceable Bi-Metal Coil (HACCP Required)
Temperature Accuracy ±1°C (1.9°F) or Better
Chart Total Length 91.4cm (36″)
Drive Solid State Quartz Controlled Clock Motor
Time Accuracy Average 20 Seconds per Month
Battery AA Alkaline
Shelf Life Three Years
Dimensions 13.9cm x 11.4cm x 6.8cm (L x W x H) 5.5″ x 4.5″ x 2.67″
Unit Weight 291 gm (0.64 lbs | or 10.26 oz)
Case Lot Size 20 Recorders per Case
Case Weight 6 kg (13.2 lbs)
Case Dimensions 42.2cm x 33.7cm x 14.6cm (L x W x H) 16.6″ x 13.25″ x 5.75″
For further information and/or pricing, please follow this link to our