Designed Exclusively For The Pharmaceutical, Biotech Industries and Healthcare (Hospital) Markets
21st Century Steam Quality Testing technology combines compliance and accuracy with simplicity.
For testing the physical properties of clean/pure/plant steam in accordance with -
EN 285:2015
HTM-0101
AAMI ST79:2017
Tests for:
Dryness value
Superheat
Non-condensable Gases (NCG)
Key Features
Includes the SQ1E NCG Condenser Unit
Clean design & tri-clamp© connections
Repeatable, compliant and assured test results
Certificate of Compliance with EN 285
Easy to use, detailed manual, light and robust
Carrying Case with Wheels and Folding Attachable Table
Used by validation professionals world-wide
SQ1E NCG Condenser Unit
Automatically controlled air-cooled condenser with backlit displays dramatically reduces set-up and testing times.
Air Cooling – eliminates the hassle of using cooling water
Integral Burette with Push-Button Zeroing – makes it easier to start test and control testing
Condensate Flow Pause Button – no more loss of condensate when re-zeroing the burette
Back-lighting for Burette and Measuring Beaker – clear visual indication of condensate levels
Carrying Handle – very portable
Can be purchased separately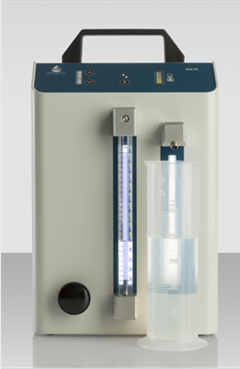 SQ1-E Steam Quality Testing Accessories
Test Elbows
We offer Steam Quality Test Elbows (Tri-Clover or MNPT process connection / Tri-Clover Sample Ports). These Test Elbows provide a fast and easy way to perform all the steam quality tests. Available in 3/4″ to 6″ diameter and finished to either 15 Ra EP I.D / 32 Ra O.D (for clean steam) or 32 Ra I.D / 32 Ra O.D (for plant steam), our Test Elbows are meant to remain in place when not testing and are provided with a complete validation documentation package (MTR's, Weld Map and Log, Surface Finish Certificate, and Citric Passivation Certificate). We can also provide additional documentation (ie Level II Inspection / Hydro testing) at an added cost. Please contact us for pricing.
An electronic balance (0 – 3000g/accuracy 0.1g) is required for the dryness test, in addition to the test kit supplied. While most facilities have these available, the presence of a balance to be used exclusively with the SQ1-T Test Kit increases productivity.
We supply a lightweight, rechargeable battery/mains, rugged precision compact balance specifically for this application.
Handheld Temperature Meter/Logger and Probes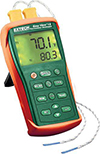 While any data logger may be used for the steam quality testing, we can also supply a dual input hand-held temperature meter/logger with two Type T Thermocouples, as two temperature inputs are required for the superheat and dryness value tests. The thermometer offers a fast response and laboratory accuracy (+/- 0.05% + 0.3°C) in a rugged hand held test tool. Has logging facility with Max/Min/Average calculations and PC connectivity, which makes it ideal for this application. Complete with NIST Calibration Certificate (Logger only)
Thermowell Temperature Probe
For a semi-permanent solution for monitoring the steam pipe temperature during testing, we offer a Tri-Clover Thermowell fitted with a Type T Thermocouple that is fitted on the temperature sample port of the Test Elbow.
Attachable case for temp data logger and balance fits on the SQ1-E wheeled carrying case .
For further information and/or pricing, please follow this link to our